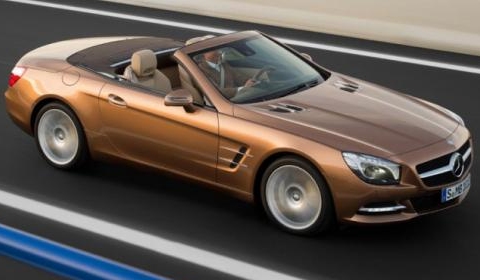 Following yesterday's brochure images revealing the exterior and interior details of the upcoming 2013 Mercedes-Benz SL, a member of GermanCarForum shared these official press photos of the new generation SL-Class.
The official press pictures show that the SL will keep its typical shape as a two-seater with a long nose, rather wide body and a lowered suspension setup. The design of the SL resembles the latest version SLK. The setup lost a lot of weight due to an extensive usage of lightweight aluminum in the body work (up to 89%). The weight has been reduced with maximum 140kg with respect to its predecessor. The stifness of the body work increased with 20 percent.
Details on the engines aren't known so far, but we can expect a range of petrol engines and one hybrid power source. There will probably be a 4.7 liter V8 producing about 435hp and a smaller V6 introduced at a later stage. In late 2012 we will see the introduction of the SL63 and SL65 AMG that will be powered by a reviewed 5.5 liter V8 producing about 571hp.