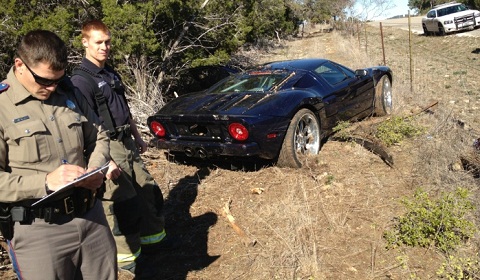 According to Jalopnik, the wrecked Ford GT you see in this picture belongs to infamous motorcycle customiser Jesse James. The accident happened two days ago in Austin, Texas when Jesse's neighbours found a wrecked Ford GT on their property.
The source for the photo suggests that Jesse lost control of the Ford GT along the windy road towards his house. It's thought that the damage is minimal, with a couple of dents and scratches. The car has been tuned by Hennessey and the badges give away it's 1,000hp status.
Jesse James had the car fitted with a GT1000 package which includes twin 67mm ball bearing turbos and a custom exhaust kit as well as a whole host of other upgrades. It's unsurprising that he lost control of it given the 2.8 second 0-100km/h sprint time, 245mph top speed and 1,000hp power figure!
It's unfortunate to see two Ford GT accidents on the same day.