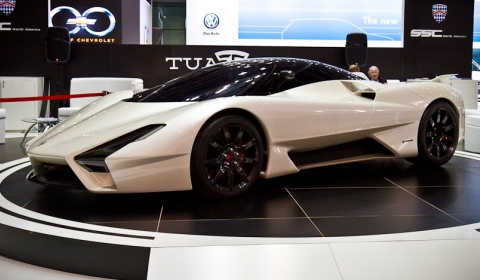 The upcoming new US hypercar, the SSC Tuatara, celebrated phenomenal success at the Dubai International Motor Show, according to Gulf News. They report that Shelby Supercars sold $ 13 million worth of Tuataras at the car show in the Middle East.
One model costs $ 1.3 million or Dh 4.8 million, which means they sold at least ten car during the five-day show, Shelby Supercars did slightly better than that and got 10 signatures during the five-day show. The 2012 Lamborghini Aventador managed to find fourteen new owners at the car show.
Shelby Supercars participated at the show purely to raise brand recognition, and even founder Jerod Shelby couldn't quite believe the success:
This has been a huge show for us – we've sold ten cars, which is phenomenal. Our expectation was nothing more than to create awareness of the brand in this region and find a distributor, but this has been amazing. The business has been outstanding.
Now all the US hypercar manufacturer needs to do is show an actual car and start production. More on the Tuatara right here.
Video SSC Tuatara
[Photos by Sam Moores for GTspirit]