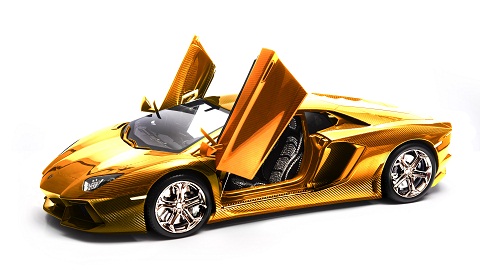 Remember the £ 2 million gold Bugatti Veyron we presented to you last year? The man behind that particular model has create a similar model for the Lamborghini LP700-4 Aventador. The result is this platinum, carbon fiber and diamond encrusted Lamborghini Aventador model.
The designer is Robert Guelpen, a German car model specialist. The value of the model is estimated at around € 3.5 million, however, the buyer can modify the specification to make the model more expensive. That's almost ten times more expensive than a real Lamborghini Aventador!
There are approximately 700 diamonds embeded into each seat, the suspension is hand crafted from solid gold and the wheel rims are made from platinum. Carbon fiber will be used to manufacture the body parts. This will be the first time such technology has been used to create a model car. Each piece of carbon fiber will be wrapped with a 1/1000mm thin thread of gold, a unique finish. The scale of the car will be 1/8 to allow for as much detail as possible.
Whilst the price of the materials has been estimated at € 2.5 million, the model is expected to reach € 3.5 million at auction in December in New York. Guelpen has negotiated with various manufacturers, he chose the Lamborghini Aventador LP700-4 as the base for its uncompromising design.
The aim is to make € 500,000 profit from the sale to donate to charity. However, Guelpen is also looking to enter the Guiness Book of World Records for creating the worlds most expensive model car, the worlds most secure showcase and the worlds most luxurious logo.
For more details on the project, visit his website.