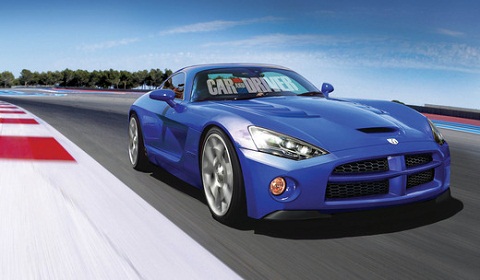 It's no secret that Dodge are preparing to unveil a brand new Dodge Viper for the 2013 model year. Dodger SRT boss Ralph Gilles has now promised that the car will be unveiled, officially, at the 2012 New York Motor Show. That means by the 6th April 2012 we should be able to bring you all the details for the popular supercar.
We can expect the new Dodge Viper to be more forgiving according to Ralph Gilles. It should still be fitted with a V10, however, the crude ride setup should be gone. Instead we'll get a Viper with stability control, a completely new design and a new focus too. Expect the new Viper to place itself squarely in supercar territory, battling with the Chevrolet Corvette and perhaps even some European supercars.
The design of the 2013 Dodge Viper will retain key features of the historic car. For example, the cabin will sit further back than ever before and the hood will be very long. Gilles has promised that those attracted to the Viper in the past will not be disappointed.
Previously we've reported that the Viper will come with an 8.7 liter V10, the largest engine ever used by Chrysler. Aside from the above information, we've heard nothing else about the new Viper so we'll be just as interested as everyone else to see what the US manufacturer has in store for the it's many Viper fans.
[Via ViperClubOfAmerica]