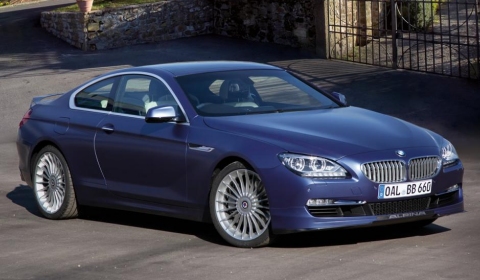 German specialist Alpina has released their new Alpina BMW B6 Bi-Turbo Coupe at the Tokyo Motor Show 2011. Like its Convertible brother, the Alpina features a wide variety of improvements to the 2012 BMW 650i Coupe.
The all-aluminium V8 powerplant produces 540hp at a moderate 5,500rpm, with a maximum torque of 700Nm from 3,000rpm. Two turbochargers configured in parallel, each feeding one of the two cylinder banks, with specially developed large diameter exhaust-turbines allow this engine configuration push you forward. The engine is linked to an adapted Switch-Tronic eight-speed Sport Automatic Transmission. The setup was tested in co-operation with ZF.
The Alpina B6 Bi-Turbo does a sprint from 0 to 100km/h in 4.4s and a top speed of 320km/h.
Besides the increase in power, the Alpina B6 BiTurbo Coupe received some aerodynamics enhancements such as a front spoiler with the integrated carbon fiber front splitter and a rear spoiler with an optional rear wing.
Furthermore, the Bavarian coupe is also fitted with an Akrapovic exhaust system, 20 inch Alpina Classic rims fitted with Michelin Pilot Super Sport tires and an interior package including a sport steering wheel hand-stitched in Lavalina leather, Classic Alpina myrtle wood trim and blue illuminated entry sills with Alpina logo.