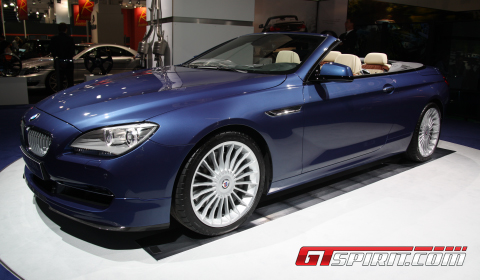 Bavarian tuner Alpina officially unveiled the B6 BiTurbo Convertible at the 2011 Frankfurt Motor Show. The latest addition to the Alpina stable is based on the BMW 650i Convertible.
The 2012 Alpina B6 BiTurbo Convertible has received a power upgrade. Alpina has added a new turbocharged system to the 4.4-liter V8 engine, this resulted in an increase of power from the original 404 horsepower to 500. The torque was also raised to 700Nm. The Alpina B6 is equipped with an 8-speed automatic transmission. Thanks to this, the Alpina B6 accelerates from 0 to 100km/h (62mph) in 4.8 seconds and the top speed is 311km/h (193mph).
Besides the increase in power, the Alpina B6 BiTurbo received some aerodynamics enhancements. Furthermore, the Bavarian convertible is also fitted with an Akrapovic exhaust system. The interior was packed with a full leather trim with cognac accents.