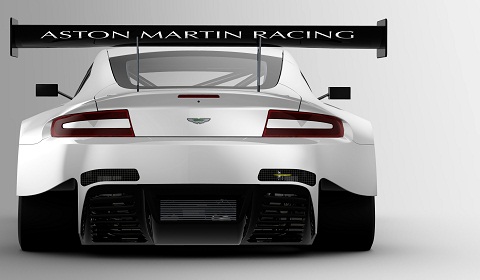 Aston Martin Racing began testing its new V12 Vantage GT3 at Brands Hatch in Kent this week, covering almost 1000 kilometers in just two days. The majority of the mileage was conducted by factory driver Darren Turner. After two days behind the wheel, Turner said:
The car ran like clockwork throughout and we've managed really good mileage already. The feeling of the V12 Vantage GT3 is a massive step forward from the DBRS9. Being based on the smaller Vantage it is more responsive and feels more nimble, giving the driver plenty of confidence to extract all the performance from the V12 engine while also being light on its tyres. It isn't too physical to drive and I didn't even break into a sweat during the test!
With the clean styling and the amazing sounding V12, it's closer to the core values of Aston Martin's road cars than any of the racing cars we've ever built. I'm certain it'll become a favourite among motorsport fans in no time at all.
The V12 Vantage GT3 is a direct replacement for the Aston Martin DBRS9, which first competed in 2006 and went on to score many race and championship wins including the 2007 British GT Championship and the 2009 FIA GT3 Teams' Championship. The V12 Vantage GT3 will be eligible to run in all FIA GT3 and national GT3 championships; the Blancpain Endurance Series; VLN and the Nurburgring 24 Hour endurance race.