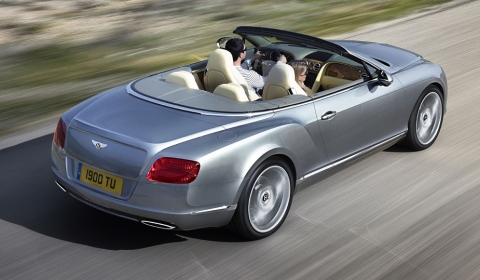 The 2012 Bentley Continental GTC was officially unveiled at the Frankfurt Motor Show last September. The luxurious British convertible is currently making its North American debut at the Los Angeles Motor Show, but last week one GTC was already sold to a generous buyer in the UK for an impressive £ 240,000, or about $ 325,000 at the current exchange rates. All the proceeds went to Children in Need.
The auction of the new GTC was organized by Bentley Manchester and took place in the Manchester Hilton Hotel. The fundraising event was visited by many celebrities and hosted by Gary Barlow, frontman and lead vocalist of pop group Take That. He also offered to deliver the Continental GTC to the winning bidder in person.
The final bid was far above the Bentley's pricetag of £149,350. Director at Bentley Manchester, Jon Crossley was impressed by the auction. He said:
Nearly 400 people saw the auction unfold and, as the price kept on rising, the whole place fell silent. To reach £ 240.000, even for the very latest Bentley which is still making its debut at the Los Angeles Motor Show, just takes your breath away.
The generous bidder is also invited to Bentley's factory in Crewe, where the company's craftsmen will stitch the signatures of the attending celebs in to the interior of the new GTC.
The new Bentley Continental GTC is powered by a 6.0 liter, twin-turbocharged W12 engine which provides 575hp and 700Nm of torque. The GTC accelerates from standstill to 100km/h in 4.8 seconds and the top speed 314km/h.
[Via Cars UK]