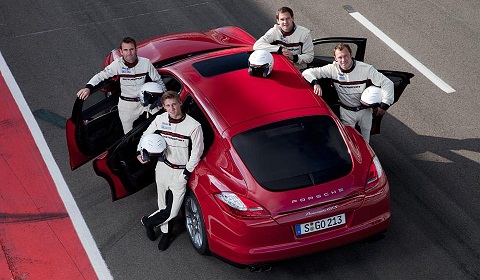 Porsche took the 2013 Panamera GTS to this years Los Angeles Motor Show 2011. It's a new variant of the four-door autobahn cruiser, featuring a modified 4.8 liter naturally aspirated V8 engine. We first saw the GTS badge for the Cayenne and 911, naturally, the Panamera gains many of the refinements that it's two predecessors shared.
Power figures are up slightly from the Panamera S. The GTS gets 430hp at 6,700rpm and 520Nm of torque. That's enough for 0-100km/h in under 4.5 seconds and a top speed of 288km/h. Those are pretty impressive figures for a four-door supercar.
The GTS benefits from sharper brakes, a ten millimeter lower ride height, five millimeter thick wheel spacers and Porsche Active Suspension Management (PASM). Overall, the car is said to be more sporty in character. It will be available for February 2012 delivery with a price tag of € 116,716.
The video below shows the Porsche Panamera GTS hitting the track in the hands of Porsche Works Drivers Romain Dumas, Richard Lietz, Marco Holzer and Patrick Pilet. We've also included an extended gallery of photos. For full details of the Porsche Panamera GTS click here.