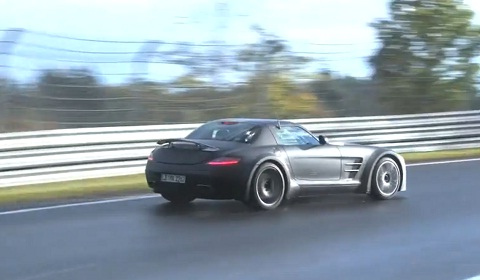 A video of the Mercedes-Benz SLS Black Series out testing has been released by German Mercedes blog, Mercedes-Fans. They managed to catch the prototype testing are the Nurburgring. Towards the end of the video you'll clearly hear the rumble of that 6.2 liter V8 engine.
We've seen spyshots of this car before. It looks pretty certain that we'll be seeing it some time in the future. Latest speculation suggests that it could be released in 2013 as a 2014 model year vehicle. When it is released it should sit at the very top of the AMG Black Series family tree.
Expect the finished SLS Black Series to carry through a lot of technology from the SLS GT3. We're expecting a power increase of 60-70hp and a respectable weight loss program with plenty of carbon fiber, lighter alloys and lighter component designs. Don't expect a lightweight, delicate SLS though. Black Series cars have a reputation as lairy, tail-happy cars; only for the bravest.