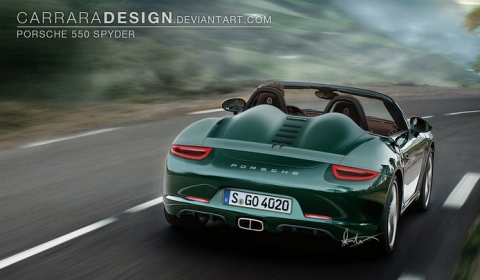 The past few months featured news that Porsche was working on a new entry-level model. But the development of the spiritual successor of the Porsche 550 may be put on hold due to economic uncertainties.
Back in July Porsche executive Matthias Mueller confirmed that the company from Stuttgart would build a 'modern-day' version of the classic 550 Spyder. But the current economic situation may put the development of the entry-level roadster below the Boxster on hold as the company reconsiders its plans.
The decision on whether to build an entry-level roadster will depend on the global economy, Mueller said. He told the Financial Times Deutschland:
The financial crisis is real and we need to see how far it develops into an economic crisis develops. If this happens and it leads to a cooling of the auto industry, then this would certainly impact our strategy.
Mueller told that the company may reach a decision on the car soon but may also delay deciding until next year. If the Porsche roadster gets the go-ahead the first deliveries could start in the third quarter of 2014.
The spiritual successor of the Porsche 550 would be powered by a four-cylinder boxer 2.5 liter engine producing around 360bhp in turbocharged form. The rumoured price tag would be around $ 55,000 or € 40,000, making it the least expensive Porsche on sale.
More news will follow, so stay tuned!
[Via Autoweek]