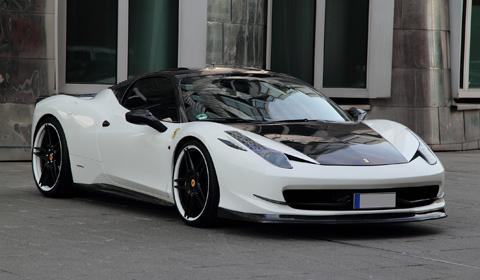 Anderson Germany has launched their carbon version of the Ferrari 458 Italia. The aero package made entirely of carbon fiber includes the sporty front lip spoiler, front bumper flaps, wider side skirts, a modest rear lip spoiler, engine air outlets, window air intake grille and front bumper ventilation grid.
The carbon fiber-coated Anderson Germany Ferrari 458 Italia also received a power increase coming out of the Anderson workshop. The car has 53 more horsepower, along with the optimized software. This increase was made possible by the exhaust system which can also be adjusted by remote control in three sound stages and features racing catalyst, heat protection, and special tailpipe. This lifts the total output of the Ferrari 458 Italia to 623hp.
Besides the windows and tail lights tinting, it is also the tire/wheel combination of this lowered Anderson Ferrari that is worth mentioning. The drop-center rims are obviously carbon-coated in body color. The front axle features 9×21 inch with 255/30-21 tires and as for the rear axle it has 12×22 inch with 335/25-22 tires. Prices for a full Ferrari 458 Italia conversion by Anderson Germany are available upon request.