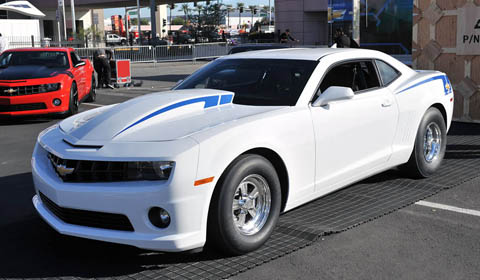 The past serves as inspiration for Chevrolet at SEMA in Las Vegas. Following the Camaro inspired by a Hot Wheels toy car, the American car maker unveiled the Camaro COPO Concept, another concept reflecting the past.
Back in the 60's when the Camaro debuted, a General Motors corporate edict prevented it from carrying an engine larger than 400 in³ (6.6 liter) V8; this put the Camaro at a serious disadvantage to its main competitors during the height of the musclecar era.
In the Sixties, COPO was the acronym for Central Office Production Order, within Chevrolet's vehicle special-order program. If a dealer wanted 100 full sized Chevys with non-stock options to meet the demands of a fleet buyer, they could request them through COPO. Although normally used for fleet orders of trucks and company-owned cars, some dealers realized they could used this program to avoid the GM edict and get around the performance limits.
These dealers utilized the COPO to create powerful musclecars. One of the famous musclecars was the Chevrolet Copo Camaro. Most of these Camaro's were made with intentions of turning them into Stock Eliminator racers.
The Chevrolet Camaro COPO Concept unveiled in Las Vegas is developed according to specifications for NHRA Stock Eliminator drag racing competition. The Camaro is designed to accommodate more than one engine option, including a naturally aspirated 427 engine (7.0 liter) – the same displacement as the original COPO Camaros from 1969 – and a supercharged 327 (5.3 liter) engine. The concept vehicle unveiled at SEMA is powered by a prototype version of the supercharged 327 engine.
Among the many racing-specific features and equipment is a conversion from the Camaro's standard independent rear axle to a solid axle, as well as a full chrome moly roll cage. Chevrolet added more racing equipment, a high-rise cowl-induction system, a set of 29 inch lightweight, COPO-specific racing wheels wrapped in 29×9" rear radial racing slicks and 4.5x28x15 inch front tires.
On the inside a pair of racing bucket seats with no rear seat has been mounted, as well as a safety harness for the driver, a competition floor shifter, and Chevrolet Performance gauges by Auto Meter.
The Chevrolet Camaro COPO Concept may reflect a glorious past, but this car also gives us a view into the future of American stock drag racing!