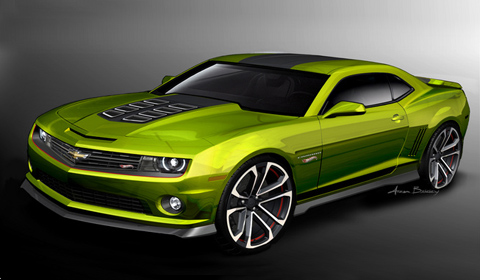 It sounds almost like a child's dream come true, a toy car turned into reality. Chevrolet officially unveiled the Camaro Hot Wheels Concept, a recreation of a small toy car made by Hotwheels, at SEMA 2011 in Las Vegas.
Hot Wheels is most famous for the small scale free-rolling models of custom hot rods and muscle cars it has produced since the range first appeared. The American company introduced its first sixteen toy cars at the end of the sixties. These cars were manufactured to approximately 1:64 scale.
One of these 16 cars was a Chevrolet Camaro which has now been recreated and revealed. GM design director Phil Zak said:
The Camaro has been a mainstay in the Hot Wheels lineup since 1968. Several generations of car enthusiasts grew up playing with Hot Wheels Camaros, while dreaming of driving the real thing, so this was a once-in-a-lifetime opportunity to make that dream a reality.
The most remarkable piece of the Hot Wheels Camaro toy car was the unique paint job. Recreating this color provided a great challenge for Chevrolet.
A special product known as Cosmichrome was first used to give the car a reflective metallic surface. After many test panels a green tint was applied, coat by coat, until the Camaro matched the original Spectraflame color of the Hot Wheels toy. This process wasn't easy according to Phil Zak:
It may sound pretty straightforward, but no one had ever tried using this process to paint a whole car. The bodywork and paint team experimented with several processes before spraying the first body panel. There were so many variables that contributed to getting the finish perfect, from the drying time to the air pressure of the spray guns – none of which was known before this project – and the team absolutely nailed it perfectly.
The Chevrolet Camaro Hot Wheels Concept will remain a concept car. Nevertheless it's great to see a toy car turned into reality.
[Via Leftlanenews]