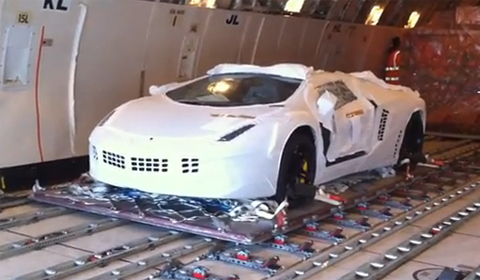 A new video appeared on YouTube showing a turquoise Lamborghini Aventador being unloaded from a plane. The exterior of the Italian Bull in the video is colored like many supercars from the collection of Al-Thani, the royal family of Qatar. This suggests the ruling family of the Middle-Eastern emirate has added a new turquoise car to their impressive collection.
Their cars are known for their turquoise color. Some other cars in their collection included a Ferrari 599, Lamborghini Murciélago LP670-4 SV and a Koenigsegg CCXR.
Just a small recap, the Aventador is powered by a 6.5 liter V12 with an output of 700hp and 690Nm of torque. The cars weighs just 1,575 kilograms (3,472lb) which gives it a power to weight ratio of 2.25kg/hp or 4.96lb/hp. The Lamborghini Aventador accelerates from 0 to 100km/h in just 2.9 seconds and the top speed is 350km/h.