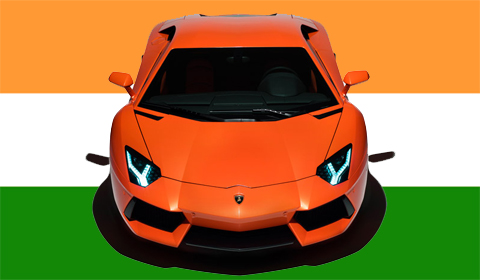 India is booming and becoming very interesting for manufacturers of supercars, prompting them to expend in a country where the World Bank estimates more than 75 percent of people live on less than $ 2 a day.
India is the world's second-most populous country with over 1.2 billion people. Its population grew at 1.76% per annum during the last decade. With its average annual GDP growth rate of 5.8% over the past two decades, and reaching 10.4% during 2010 India is also one of the world's fastest-growing economies.
Although a great percentage of the population is still living in poverty, the number of people living in wealth is growing fast. The amount of millionaires is projected to more than double in India by 2015. Their number will increase to 403,000 by 2015 from 173,000 in 2010.
The growing wealth is expected to drive demand for exotic cars — including Lamborghini, Aston Martin and Bentley — to about 500 a year by 2020, from 180 last year. It is estimated that the Indian luxury-car market will grow 32 percent a year over the next five years. With these kind of figures it becomes clear that the South-Asian country provides enormous possibilities and opportunities for companies.
Due to high import taxes the price tag of a Lamborghini Aventador in India is 36.9-million rupee ($ 750,600), which is almost twice as much as the supercar will cost in Europe or the US. Nevertheless the demand is high due to the surging numbers of millionaires and cars are regarded as 'the biggest status symbol you can have'.
To meet the increasing demand of supercars, Lamborghini will extents it presence on the South Asian subcontinent. The Italian carmaker opened its first Indian dealership in May, the second will open this year and four more are scheduled to open by the end of next year.
Not only Lamborghini targets growth in India, other manufacturers of the supercars are expanding their activities as well. Aston Martin, Ferrari and Maserati are also planning to open new dealerships in India.
Traditionally, the cow is respected as a sacred animal in India. But now it appears an other Bull is becoming the Holy Cow.
[Via Bloomberg]