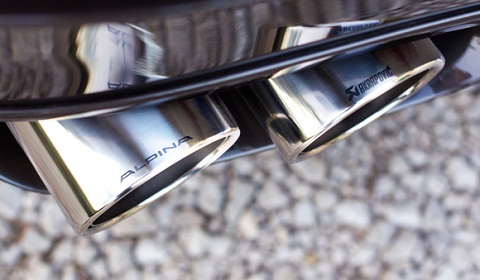 Slovenian exhaust maker Akrapovic got a request from Germany BMW specialist Alpina to develop an exhaust for the upcoming B6 Bi-Turbo, which was released at the 2011 IAA Frankfurt Motor Show about a month ago.
For the first time, the Germans chose to work with Akrapovič and fit an Akrapovič titanium exhaust system as their factory standard due to the impact it has on performance, sound, and looks. To accompany the release of the system and the tuned BMW 6-Series, the companies released a video giving you the full experience.
The 2012 Alpina B6 BiTurbo Convertible has received a power upgrade. Alpina has added a new turbocharged system to the 4.4-liter V8 engine, this resulted in an increase of power from the original 404 horsepower to 500. The torque was also raised to 700Nm. The Alpina B6 is equipped with an 8-speed automatic transmission. Thanks to this, the Alpina B6 accelerates from 0 to 100km/h (62mph) in 4.8 seconds and the top speed is 311km/h (193mph).