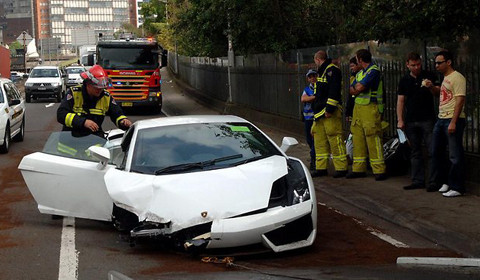 A Lamborghini Gallardo has crashed during a test drive in Sydney, Australia. The prospective buyer lost control over the white Gallardo and crashed into a highway barrier.
The front of the car was a completely wrecked, the impact ripped the front right-hand wheel from its axle and the bonnet from its hinges. Thankfully the driver and the salesman, who was in the passenger seat at the time of the crash, were both uninjured. The white Lamborghini was luckily insured.
According to the salesman the driver wasn't speeding at the time of the of incident and will not be held responsible for the damages. Lamborghini Sydney salesman Ian Watts said:
It appears he panicked – these things happen. It doesn't matter as long as no one was doing anything stupid or crazy, and no one was injured.
Police are still investigating the incident and deciding whether or not to press charges. The local Police Inspector has said:
Cars don't normally crash into barriers. There are witnesses police are still to speak with and, pending those inquiries, we will determine what action is taken.
Not surprisingly, Lamborghini Sydney has not yet received any offers from the driver to buy the car.
[Via Daily Telegraph]