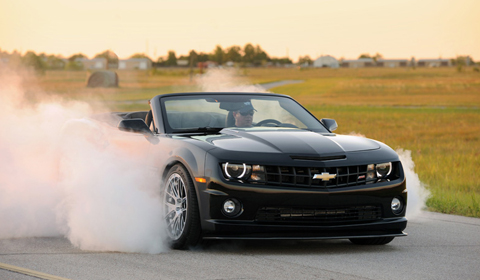 Hennessey Performance has presented the 20th Anniversary HPE650 Camaro. The American aftermarket tuner was founded in October 1991 and to commemorate the company's 20th anniversary, Hennessey is offering a limited edition 650 horsepower Camaro SS.
Limited to just twenty vehicles, the Hennessey Performance 20th Anniversary HPE650 Camaro will be available as a hardtop coupe and convertible. The total output of the supercharged 6.2 liter V8 engine is 655bhp at 6,300rpm. This enables the 20th Anniversary HPE650 Camaro to sprint from zero to 60mph in just 3.7 seconds.
Each 20th Anniversary Hennessey Camaro will come exclusively in black, with upgraded coilover suspension system, CarbonAero front splitter and side skirts, Hennessey monoblock wheels (chrome or silver finish) plus Hennessey embroidered head rests, floor mats and serial numbered plaques on the interior and under the hood.
Hardtop coupes are priced at $ 79,500, with the convertible at $ 84,500. The car comes with a three year or 36,000-Mile limited warranty.