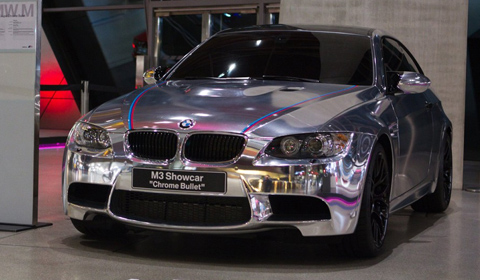 BMW Welt (BMW World) is a multi-functional customer experience and exhibition facility in Munich, Germany. It is designed to present the current products of BMW. It also acts as an event forum, a conference center, and a distribution center for BMW cars.
One of the cars currently on display is this remarkable BMW E92 M3 Coupé Chrome Bullet, which appeared on the BMW M Facebook page.
The Chrome Bullet is made entirely out of chrome and features the classic BMW racing stripes on the hood. Beneath the chrome exterior, the M3 Coupé features the same 4.0 liter V8 as the regular M3.
BMW hasn't released any information regarding the price or availability. What do you think, should BMW make the Chrome Bullet available for customers? Feel free to share your thoughts in the comments below.
[Via BMW Blog]