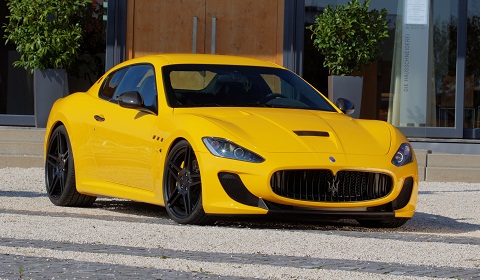 Those who have had the pleasure of hearing Maserati's awesome GranTurismo MC Stradale will tell you that it doesn't need anything more. It already has a stunning soundtrack and jaw dropping looks. Novitec's new kit for the MC Stradale has to offer something more for the Italian supercar; have they managed it?
First we have to talk about what Novitec Tridente offer for the MC Stradale's engine. A supercharged has been added and the horsepower figure cranked up from 450 to a massive 646hp. Obviously, Novitec's engineers identified power as a week point for Maserati's current flagship model. Boost pressure is limited to 0.43 bar and a water-to-air intercooler with two heat exchangers help keep reliability high. The € 23,900 conversion also includes a bigger intake manifold, larger injectors and a newly calibrated mapping for the engine electronics.
The MC Stradale will now cover the 0-100km/h sprint in 3.9 seconds, 200km/h in 11.4 seconds and it will continue on to a top speed of 306km/h. That means a conservative 5km/h increase on the standard car's top speed, and a 0.7 second increase in the 0-100km/h time. Optionally, Novitec mechanics will have a fiddle with the car's gearing, increasing top speed to in excess of 330km/h. As we mentioned before, the V8 gains 196hp and peak torque grows to 624Nm.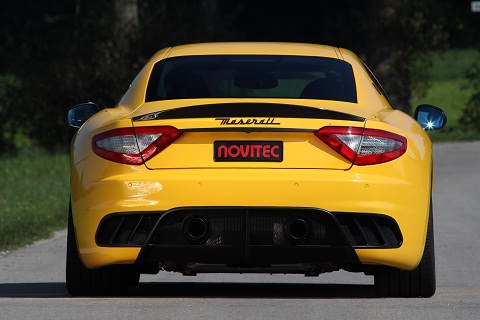 Optically, the central air scoop has been adjusted to provide better cooling. This is available as an option and can be made available in lightweight clear-coated carbon fiber. Two large air vents are also included in the new hood. The sonorous butterfly-valve production exhaust system receives two black-coated or polished tailpipes whilst the rest of the car remains unchanged.
A new tire and wheel combination has been fitted to this car including 21 inch wheels at the front and 22 inch at the rear. They are three-piece Novitec NM3 wheels with five double spokes mounted on 9Jx21, size 255/30 ZR 21 Pirelli P Zero high-performance tires at the front and size 315/25 ZR 22 tires on size 11.5Jx22 rims at the rear. Progressive sport springs have lowered the ride height by 25 millimeters. Novitec owners can tailor their vehicles to their personal preferences as far as interiors are concerned.
Enjoy the photos and video. Let us know what you think in the comments box below.