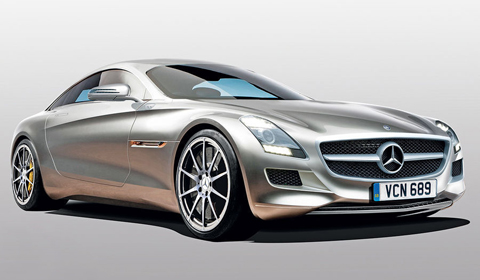 Following the news that Mercedes-Benz will introduce many new models the upcoming years, it has become clear that the Germans are planning a smaller version of the successful SLS AMG.
Mercedes is planning a smaller and cheaper version of the SLS, which will take on cars like the Porsche 911 and the Jaguar C-X16. The success of the SLS, which has sold 5,000 models since its introduction, has opened doors for a smaller version. This car should be, just as the SLS entirely designed in-house by AMG and would further establish AMG as a sports cars manufacturer.
Although the development of the 'baby SLS' is in an early stage, some details are already known. The car will come as a coupé, and a roadster is also under consideration. It have two seats and will be powered by a front-mounted V8. This engine will most likely be the 5.5 liter twin-turbo which develops up to 500 horsepower.
The power will be transferred to the rear wheels via a seven-speed twin-clutch gearbox. An acceleration from standstill to 100km/h should take four seconds and the top speed will be almost 300km/h. The small SLS is also likely to be highly efficient, boasting stop-start and other efficiency-boosting measures.
The new small brother of the SLS will have a price tag of €80.000 to make the car profitable. It will take some time before this model hits the showrooms, 2014 is most likely.
[Via Auto Express]