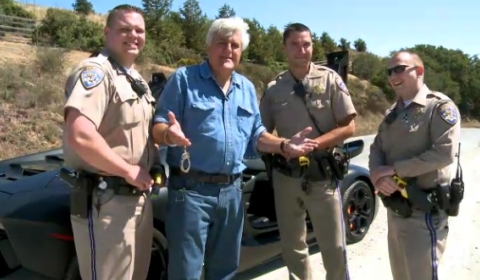 Another Italian supercar has entered Jay Leno's Garage. The matte black Lamborghini LP700-4 Aventador was driven by the American TV host and petrol head.
He also met up with President and CEO of Automobili Lamborghini Stephan Winkelmann for an up-close look at the world's latest supercar from Sant'Agata Bolognese, featuring a road-shredding 700hp V12 with the highest power-to-weight of its class.
Just a small recap, the Aventador is powered by a 6.5 liter V12 with an output of 700hp and 690Nm of torque. The cars weighs just 1,575 kilograms (3,472lb) which gives it a power to weight ratio of 2.25kg/hp or (4.96lb/hp). The Lamborghini Aventador accelerates from 0 to 100km/h in just 2.9 seconds and the top speed is 350km/h.
For those of you who cannot see the video click here!