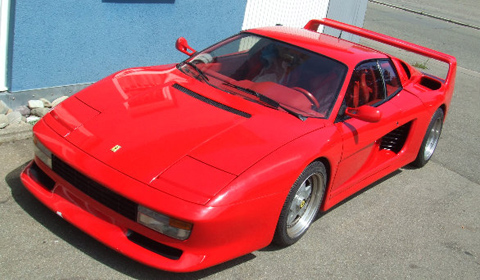 Lotec is a German sports car manufacturer specialized in optimizing cars. The company is known for its exclusive and powerful modifications and one-off models.
A great example of a quintessential Lotec Car is the C1000. In 1990, Lotec was commissioned by an oil baron from the United Arab Emirates to build a sports car for him. The completed vehicle (known as the Lotec C1000) was completed in 1995, at a final price of around $ 3.4 million dollars (USD). The car is equipped with a 5.6 liter Mercedes-Benz V8. The engine was fitted with two turbochargers for a total output of 1,000hp.
Another impressive car is the Lotec Sirius. The Sirius is powered by the same Mercedes-Benz V12 engine as the Pagani Zonda. According to Lotec the Sirius will produce 1000hp, or up to 1200hp when tuned differently. Another car will broke the 1000 horsepower barrier was the Lotec TT1000 and now one of those is currently for sale.
The Lotec TT1000 is based on the Ferrari Testarossa and styled like the F40. A total of three Italian cars has been modified by the Bavarian car maker. The price tag was in 1989 1,200,000 Deutschmark, which equals almost five times the price of a regular Ferrari Testarossa or three times the F40 in those days. Perhaps the Lotec TT1000 was one of the most expensive cars money could buy.
Thanks to two turbos, the engine provides a whopping 1,000hp and 1,100Nm of torque which enables the rear-wheel powered car to accelerate from standstill to 100km/h in 4.1 seconds. The top speed is 370km/h, but the speedometer goes all the way to 400km/h.
The car is built in 1989, has driven 12,000km or 7.456m and currently for sale in the city of Recklinghausen, in the German Ruhr Area. The price is on request. Interested in this unique and perhaps insane car? Click here for more pictures and the advertisement.