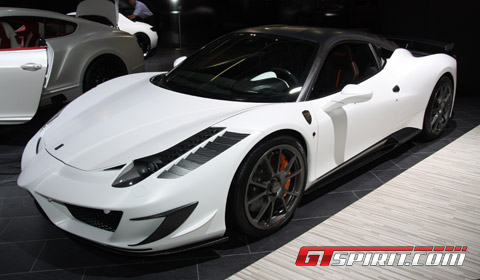 Mansory has presented the Mansory Siracusa at the 2011 Frankfurt Motor Show. The German tuner has boosted the performance and appearance of the Ferrari 458 Italia based car.
The Mansory Siracusa at the IAA received a new apron with optimized air inlets for a better ventilation of the front coolers. In combination with the new bonnet it also generates additional down force. At the sides, newly designed side skirts are added. These calm down the air flow between the axles and provide additional cooling air to the engine compartment through integrated ducts.
The diffuser which is fitted into the new back skirt stabilizes the rear during high velocities and in connection with the rear wing, generates contact pressure at the rear axle. The body kit is completed with carbon blades which replace the rear window. Compared to the serial Ferrari 458 Italia, the saves 60 kilogram weight due to its autoclave carbon components.
Thanks to an optimized engine management, a sports air filter and a sports exhaust system, the output of the V8 increased to 590hp and 560Nm. The Mansory Siracusa accelerates in 3.2 seconds from 0 to 100km/h. The top speed is 330km/h, higher than with the basic Ferrari model.
The carriage components in the Siracusa are especially adjusted to the improved engine performance and the dynamic driving behavior. These consist of four sports anti-shocks combined with progressively winded lowering springs. Therefore, the center of gravity is lowered by 20mm compared to the serial model.
Mansory has added forged rims with central locking in the dimensions 9×20 and 11×21 with Michelin PS2 tyres measuring 245/35 ZR20 at the front axle and 305/30 ZR21 at the rear axle.
Also the interior is enhanced and fitted with materials such as most delicate leather, ultra-suede and carbon. The center console has been redesigned and a newly developed full size airbag sports steering wheel and the aluminum pedals are installed.