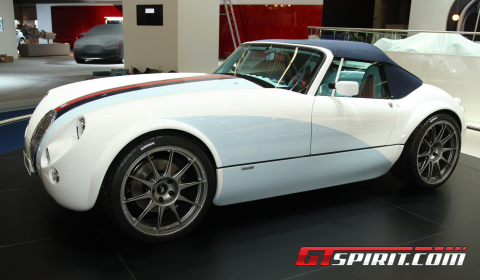 Wiesmann has officially unveiled the MF3 Roadster Final Edition by Sieger at the 2011 IAA Frankfurt Motor Show. Limited to 18 cars, these are the last of the six-cylinder inline engined MF3 Roadsters, which well be made.
To honor the 18 years of production of the MF3 Roadster and to make the last cars even more desirable and valuable, the German manufacturer has created 18 unique and individually memorable cars together with the designers from premium brand Sieger.
The 18 special-edition cars all differ from each other via an extraordinary, unique and definitively incomparable design while retaining an unmistakable similarity. Each car has a distinctive set of stripes down the middle and each one has its own individual name. Also the interior is designed to match the colors of the bodywork. You can check out each single model via a special webpage.
The Wiesmann MF3 Roadster entered production in 1993. The lightweight roadster is powered by a 3-liter BMW 6-cylinder engine which provides 343 horsepower and a total torque of 365Nm. The Final Edition accelerates from standstill to 100km/h in 4.9 seconds, the top speed is 255km/h.