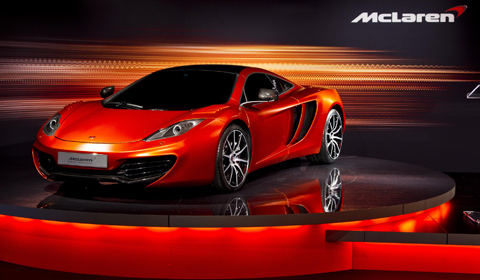 McLaren Automotive today announces the official launch of McLaren Special Operations, a division of the new sports car manufacturer responsible for delivery of bespoke projects for McLaren sports cars.
McLaren Special Operations celebrated its launch at Pebble Beach Concours d'Elegance this year by presenting an example of the groundbreaking new MP4-12C, finished in a unique version of Volcano Orange, and featuring a range of bespoke carbon upgrades dubbed by GTspirit the McLaren MP4-12C Bespoke Edition.
The exclusive McLaren MP4-12C Bespoke Edition unveiled at Pebble Beach has been specified with the aim of inspiring existing and future owners of the first ever pure McLaren sports car. Bespoke treatment applied to this car includes stunning satin matte Volcano Orange paintwork, a gloss black roof, diamond cut finish wheels with gloss black inners, MP4-12C branded carbon sill panels, carbon steering wheel, front wheel arch louvers and carbon fiber engine cover vents, rear deck vent and wiper system cover.
The new MP4-12C made its North American debut at Pebble Beach in 2010, so it was a natural choice to return to the event in 2011 for the launch of McLaren Special Operations. Paul Mackenzie, Programme Director at McLaren Automotive, with responsibility for McLaren Special Operations, said:
It was a pleasure to meet some of the first 12C customers in North America at Pebble Beach. For nearly twenty years we have been closely managing relationships with owners of the McLaren F1, and understanding their needs is a great foundation on which to launch a service that will now include 12C customers.

McLaren Automotive already offers 12C customers extensive options to personalize their car. However we recognize some owners have specific tastes and we have the knowledge and capability to design, engineer and produce almost anything a customer may desire for their 12C.
McLaren Automotive enjoyed a high-profile position overlooking the famous 18th fairway at Pebble Beach. Paul Mackenzie was one of three McLaren Automotive Directors to feature in a 'McLaren Speaker Series', staged in the hospitality suite. His presentation covered the development of the legendary McLaren F1, while Design Director Frank Stephenson gave an exclusive audience his perspective on the design philosophy he is developing at McLaren Automotive, and Research Director Dick Glover discussed Formula 1 technology now supplied in the new MP4-12C sports car.
Car and Driver magazine Technical Editor Aaron Robinson was a guest of McLaren Automotive at Pebble Beach. Following a speech outlining the secrets of testing supercars, Robinson said:
I'm looking forward to seeing the 12C on roads in North America. It won our recent supercar group test, largely because of the way its technology translates to outstanding performance. McLaren has huge brand equity in North America and I have no doubt the company and its planned range of sports cars has a bright future here.
McLaren Automotive presented a second special version of the MP4-12C on the 'Concept Lawn' at Pebble Beach. This 12C was painted by McLaren Racing (the Formula 1 focused sister company to McLaren Automotive), using AkzoNobel Sikkens chrome coating, which is usually applied exclusively to Vodafone McLaren Mercedes Formula 1 cars. The special lightweight coating is designed to minimize friction and have a low drying time requirement. The paint scheme is not however available for commercial purposes and is reserved exclusively for the Vodafone McLaren Mercedes F1 program.