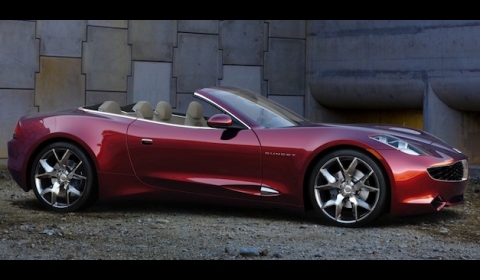 We shared the latest on Fisker Automotive and their Karma plug-in hybrid sedan over the past few days. New information has been revealed stating that Fisker is working on new variants.
A hard-top convertible Karma S will launch in 2013. Before that, Fisker will debut a sporty shooting break/SUV type Karma, which will go on sale in 2012. The model is expected to debut at the 2011 Frankfurt Motor Show next month.
For those of you unaware what a plug-in hybrid is. The Fisker Karma drives its rear wheels using two rear-mounted 201.5 horsepower electric traction motors that draw energy from the lithium-ion battery pack for up to 80km. The gasoline engine drives a 175kW electric generator to power the motors. There is no mechanical link between this engine and the drive motors.
The luxury sports car can run in one of two drive modes: Stealth and Sport. Stealth Mode maximizes efficiency, giving the car its greatest range on battery power before activating the gasoline engine-driven generator to sustain battery charge. In Stealth Mode, the Karma can accelerate from zero to 100km/h in 7.9 seconds and achieve a top speed of 153km/h. With Sport Mode engaged, the gasoline engine drives the generator to provide enough electricity for 403 total system horsepower, allowing the Karma to accelerate from zero to 100km/h in just 5.9 seconds and achieve a top speed of 201km/h.
[Via egmCarTech]