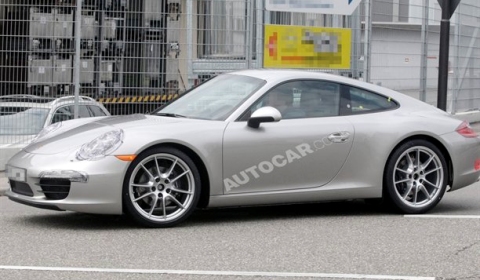 Once again new spyshots have been revealed showing the 2012 Porsche 911 (991) Carrera almost completely undisguised. The photos were made in the same street where a red 991 Carrera S was spotted last week close to the Porsche factory in Stuttgart.
The main design philosophy has not changed a bit, and is still boring. It is more a formula of subtle design changes rather than a ground-breaking rethink. Some details changed. New LED detailing at the front is inspired by the 918 Spyder concept, at the back the number of openings in the engine cover has been reduced from five to three.
The wheelbase has been lengthened with the front and rear overhangs reduced to minimise the increase in overall length. At 4491mm long, 1873mm wide and 129mm high, the new 991 will be 56mm longer, 65mm wider and 11m lower than the 997.
The power comes from a 400bhp version of the 3.8 liter flat six found in today's 380bhp Carrera S. The entry-level Carrera model is powered by a 3.4 liter flat six rather than a 3.6. It produces more power than today's 997, going from 341bhp to 350bhp. Another difference between the Carrera models is the twin exhaust pipes at the rear. The Carrera S models get quad pipes.
Stay tuned for the final release the IAA 2011 starting the second week of September.