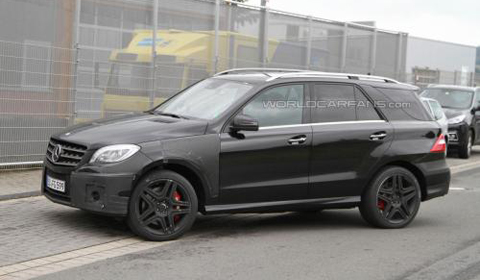 The 2012 Mercedes ML63 AMG has been spotted while testing at the Nürburgring. Compared against the previous generation, the styling of the Über-ML has been has been slightly modified.
The camouflaged prototype has a revised grille, modified bumpers and a four-tailpipe exhaust system. Drive will be sent to all four wheels AMG's latest Speedshift MCT seven-speed sports transmission.
The 2012 ML 63 AMG will be powered by a twin-turbocharged 5.5 liter V8 which provides 518 horsepower and 700Nm of torque, similar to the 2012 Mercedes-Benz E63. However, a likely available Performance Pack should see output increased to 550 horsepower and 800Nm of torque thanks to additional boost pressure from the turbos.
The upcoming ML63 AMG should be able to accelerate from standstill to 100km/h in less than five seconds. The top speed will be electronically limited to 250km/h. For stopping power enormous brakes will be installed.
The new ML63 AMG will be unveiled at the Frankfurt Motor Show next September or possibly at the Los Angeles Auto Show in November. The first sales should start by the end of the year.
[Via WorldCarFans and Motorauthority]