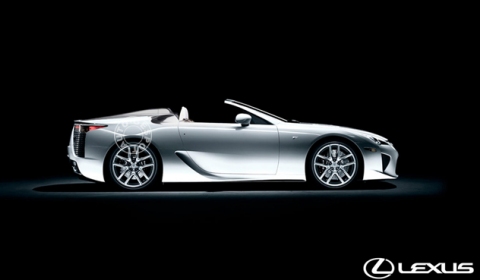 Automotive News reports that a roadster version of the Lexus LFA is being planned. After the current batch of 500 Coupes is built, there likely will be a one-year hiatus before a roadster version is offered, probably in mid-2014.
The news follows after Lexus displayed a roadster version of the LF-A concept car designated LF-A Roadster or LF-AR at the North American International Auto Show in January 2008. Spyphotographers spotted the LF-A Spyder on the Nürburgring as early as October 2005.
The limited Lexus LFA is powered by a 4.8 liter V10. The natural aspirated engine produces 560bhp at 8,700rpm and 480Nm of torque at 6,800rpm. The power is transmitted to the rear wheels through a six-speed ASG transmission ensuring a 0-100km/h sprint of 3.7 seconds and a claimed top speed of 325km/h.
The open-top supercar could look like the renderings made by Autogespot.com.