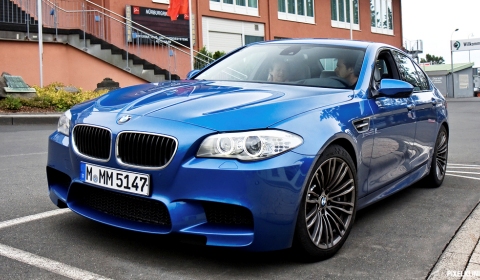 Our photo of the day is this brand new 2012 BMW F10M M5 in Monte Carlo Blue Metallic spotted this weekend at the Nürburgring.
The new M5 is powered by a high-revving 4.4 liter V8 engine with M TwinPower Turbo package. The engine is combined with a race-bred chassis technology that includes, for the first time, an Active M differential and electronic damping control. The new 2012 F10 M5 can accelerate from 0-100km/h in just 4.4 seconds, and 0-200km/h in only 13 seconds. The voluntarily limited top speed is 250km/h.
The picture was made by Christian aka Pixelklinik. You can check out his Flickr page right here.