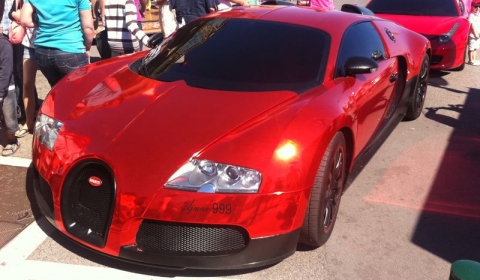 Our chief editor is on holiday in St. Tropez, France, where he spotted this Bugatti Veyron Red Chrome Wrap this morning. The Bugatti Red Chrome project was done in Dubai by TAM Auto Engineering, but the owner headed to Dartz FR for a complete new snake skin wrap, wheel wrap and interior upgrades last week.
The spot on the streets of St. Tropez follows after a video made by the owner of Dartz FR we published nine days ago.
The owner is Sheikh Humaid bin Rashid Al Nuaimi, aka RRR, who uses his trademark on all his sports and supercars.