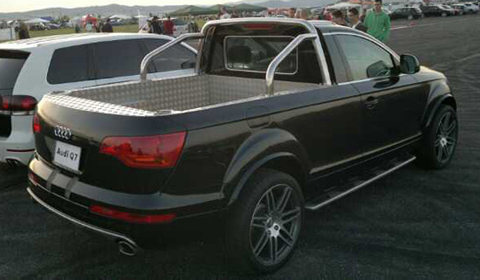 Many different kind of cars, modifications and styles have featured in our 'overkill' category. But is the car starring this edition overkill or is this Audi Q7 pickup an interesting customization?
This car was spotted in the United States where the pickup truck is very popular and has a special status. The best-selling vehicle in the US for 24 years was the Ford F-150, a full-size pickup truck.
It seems like that building a car with a pickup style trunk is quite popular these days. We have seen the (in)famous BMW M3 Pickup, a rendering of the Mercedes-Benz C 63 AMG Pickup and a Range Rover Pickup featured in our 'Overkill' category.
So an Audi Q7 Pickup doesn't seem that odd at all, or does it? Feel free to share your thought in the comments below.
[Via Autoblog.nl and I Am Audi]