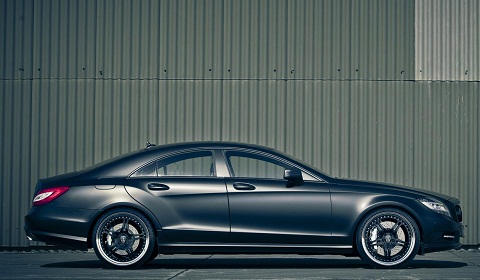 Kicherer have unveiled their new tuning kit for the Mercedes-Benz CLS 500. The kit comprises performance modifications alongside visual modifications and is said to offer a more 'sporty' look to the luxury coupe.
Thanks to a software update and a sports exhaust system, the V8 biturbo engine gains around 62hp and 90 Newton meters of torque. This brings the total up to 470 horsepower Kicherer have also installed a PowerConverter (with an E certificate of conformity) to help the delivery of this new found power. As a result, the car is more responsive under acceleration. The standard end pipes have been retained for this car, Kicherer have however fitted their own exhaust system, releasing some of that German V8 sound at the same time.
Hand-made Kicherer RS-1 20 inch forged wheels have been fitted to this car. Finished in bare metal and black, they hide new six and four piston high performance braking system. These feature compound discs and flexible stainless steel hoses.
The interior has been refitted with interior elements and door sills in piano lacquer. A matt black finish has been applied to this car with features such as the carbon fiber grille inserts and the carbon fiber mirrors setting this model appart from the serial.