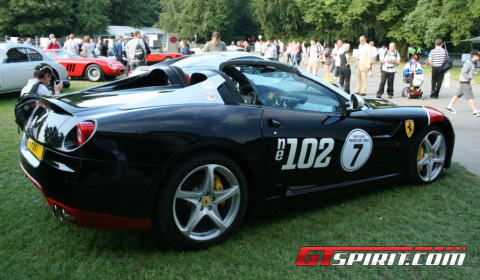 Ferrari collector and British Radio 2 DJ Chris Evans has extended his line-up of Ferraris with a Ferrari 599 SA Aperta. The guy already had an exclusive line-up of Italian sports cars, but the limited 599 SA Aperta was not yet part of it.
The new Ferrari 599 SA Aperta is based on the 599 GTB Fiorano platform and equipped with the same V12 engine that can be found in the recent Ferrari 599 GTO. Only 80 SA Aperta's were build. The SA Aperta is essentially a speedster without a roof. In case of emergency (i.e. rain) the driver can manually place a soft top but the car is meant to be enjoyed open.
As you can see on the pictures, the vehicle was parked next to his personal Ferrari 599 GTO, Ferrari F40 and the rest of his epic collection at the 2011 Festival of Speed.