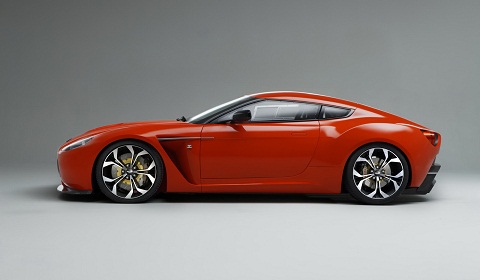 The rumours have been confirmed as far as a road-going Aston Martin V12 Zagato are concerned. The English marque will offer a limited edition and has confirmed it is taking orders already with deliveries currently expected during the second half of 2012. 150 hand assembled V12 Zagato's will be constructed at Gaydon.
With a racing variant already revealed, the new Zagato will be built upon the existing Aston Martin V12 Vantage platform. It will feature a handcrafted aluminium and carbon fiber body as well as a lightly 6.0 liter V12 engine producing 517bhp and 570Nm of torque. The car itself will commemorate the 50th anniversary of the stunning DB4 GT Zagato.
The price has also been set at a lofty £ 330,000, which comes to around US $ 528,000 or € 369,000 at the current exchange rates. These prices are without local taxes. To us the price tag totally justifies such a unique and stunning design, what do you think? Let us know in the comments box below.