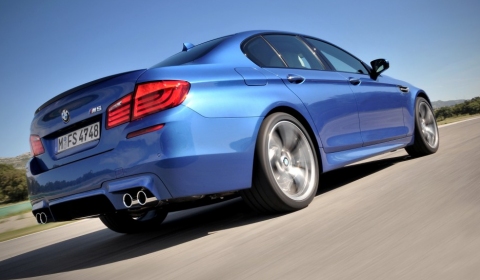 The Nurburgring Nordschleife lap time for the brand new 2012 BMW F10M M5 has been revealed at fastestlaps.com.
In the hands of a BMW factory driver the luxury power sedan clocked a lap time of 7:55. Check the complete lap time score list right here and you will find the F10M M5 at position 74. That is on par with a Ferrari F430 and one second quicker than a Porsche 996 Turbo!
The new M5 is powered by a high-revving 4.4 liter V8 engine with M TwinPower Turbo package along with race-bred chassis technology that includes, for the first time, an Active M differential and electronic damping control. It can accelerate from 0-100km/h in just 4.4 seconds, and 0-200km/h in only 13 seconds. The voluntarily limited top speed is 250km/h.
More on the new BMW F10 M5 click here!
[Via Teamspeed]