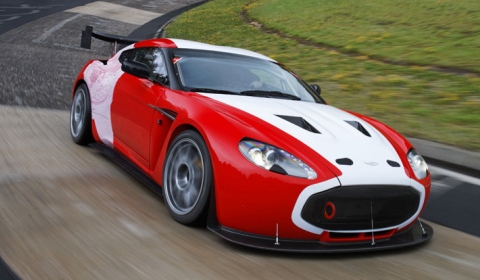 This week Aston Martin is putting the final touches to its race preparations in readiness for the toughest 24 hour race of them all – the annual ADAC Nürburgring 24 Hours on 25 and 26 June where a group of new Aston Martin V12 Zagatos will compete.
This weekend marks the next step of the project which began when the V12 Zagato was unveiled at the Concorso D'Eleganza at Villa D'Este in May this year. The show car was then transformed into the number 3 race car, nicknamed 'Zag' (red) and will be piloted in the 24 hour race by Aston Martin CEO, Dr. Ulrich Bez, the company's Nürburgring Test Centre Director, Wolfgang Schuhbauer and automotive journalists Horst von Saurma and Matthew Marsh.
In addition, a green V12 Zagato (nicknamed 'Zig') – car number 5 for the race – was prepared by the small team based at Aston Martin's global headquarters in Gaydon, Warwickshire. Zig will be driven by One-77 Chief Engineer Chris Porritt, experienced sports car driver Oliver Mathai, automotive journalist Richard Meaden and experienced amateur racer Peter Cate.
Joining the Zagatos will be a V8 Vantage GT4 affectionately nicknamed 'Smurf' (now orange but formally blue) which will be driven by Aston Martin Racing works driver, Darren Turner, journalist and experienced 24 hour driver, Shinichi Katsura, Australian racer Rob Thomson and seasoned Nürburgring pilot Jurgen Stumpf.
Three further customer team V8 Vantages will be competing over the weekend bringing the Aston Martin presence in the race up to six cars with Mathol Racing (#62), Bratke Motorsport Team – AVIA (#85) and Team Pflanz (#75) driving Vantage GT4s in the SP10 class.
At the Nürburgring the roofs of both V12 Zagatos will be sporting a 'Heart for Japan' dedication as part of Aston Martin's support for the Tsunami victims of Japan. In May, Dr. Bez auctioned his company Rapide raising £ 100,000. During the build up to this year's 24 hours Dr. Bez will hand the cheque to Toyota CEO, Akio Toyoda and their Donation Fund for Employees in the Affected Disaster Area charity.
The 39th ADAC Nürburgring 24 Hour race starts at 4pm CET on Saturday 25 June.