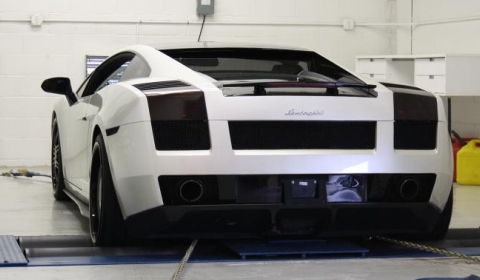 US car specialist Bradan has been commissioned to build a twin-turbo conversion for a 2006 Lamborghini Gallardo SE. The goal of this project is to reliably increase the engines power output to 750-800 all wheel horsepower using 93 octane fuel.
The engine will be rebuilt and reinforced internally to handle the increased boost pressure. A turbo system will be designed and engineered to build power in a similar fashion to the OEM power curve. The full process will be documented step-by-step to show what is involved in such a project and show our capabilities. We from GTspirit follow Bradan in their process and share with you the latest information on the development and rebuild.
To develop the turbo package the full engine bay was first 3D laser scanned to collect all the surface date for us to work with in. From this data the engineers designed the turbo system. Bradan wanted to maintain a clean OEM look and use aerospace materials for reduced weight and increased strength. Below you will find the first video and pictures of the building process.
Stay tuned for more from the US tuner.