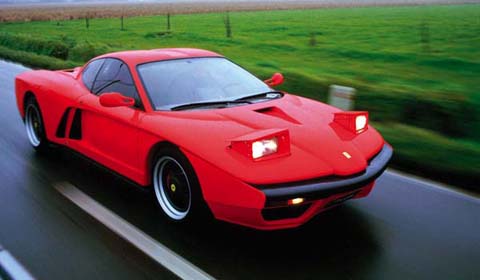 The unique and perhaps somewhat controversial Ferrari FZ93 is for sale. Based on the Ferrari 512TR, the FZ93 (Formula Zagato '93) was unveiled at the 1993 Geneva Motor Show and featured a two-tone paint scheme. Since this color scheme wasn't a great success Zagato repainted the entire body red.
This rare Italian sports car was designed by automobile designer Ercole Spada who was working for Zagato in those days. Other notable designs made by Ercole Spada include the Aston Martin DB4 GT Zagato, Alfa Romeo 155 and the remarkable Spada Vetture Sport which was on display at Top Marques. The Ferrari Enzo has some design features inherited from the FZ93, for example notice the shape of both Enzo and FZ93's F1 styled nose.
This unique piece of automotive history has driven only 700km and is listed for € 1,000,000. For more information visit Mobile.de.