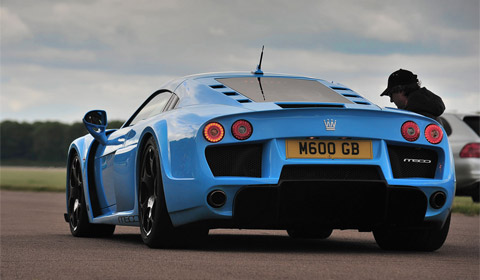 Vmax Overboost is, as the name might give away, an event where owners of sports- and supercars can try to reach the vmax of their vehicle. Last weekend over sixty cars gathered at Bruntingthorpe airfield near Birmingham for the latest edition of Vmax 200. The Bruntingthorpe airfield features a two mile long straight that offers a great opportunity to breach the 200mph barrier in modern day super- and hypercars.
Among the cars that attended were a Lexus LFA, Porsche Carrera GT, Ferrari 599 GTO, TVR LS7 Sagaris and a RUF CTR3 that registered the highest top speed at this edition with 207mph. The second best was 205mph clocked by a Noble M600. Our friend GF Williams was there to shoot some pictures of the attending cars and he reports:
The highlights of the day were the Lexus LF-A, that sounded bloody amazing, even compared to Carrera GT, and the RUF CTR3 owner going out for a warmup run and doing 207mph, which would remain his best run of the day! I was scared shitless in the TVR LS7 Sagaris with over 600hp when the owner showed the Carrera GT how quick it was with a little bit of a race which ended with the Carrera GT going round the corners sideways. My personal highlight was a ride in the RUF and breaking my double ton virginity with a 202mph run and a sideways run in the Porsche Carrera GT.
Video Ferrari 599 GTO at Vmax Overboost