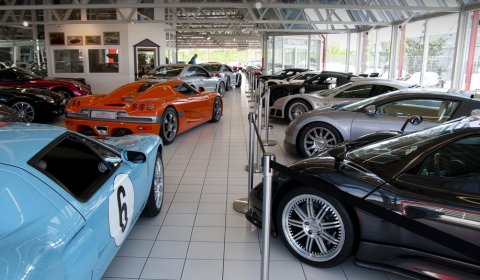 Auto Salon Singen is supercar heaven. Any petrolhead should pay a visit at the dealership in Singen, Germany. It is truly one of the places in the world where you can find your new sports-, supercar or classic. You can read everything about the dealership, right here in our dealer visit topic.
For those of you wo just want to experience the vehicles, you can visit Auto Salon Singen. It is located in the south-west of Germany near the Bodensee and the Swiss border. The dealership is open from Monday to Friday from 8 am until 6.30 pm and on Saturday from 9 am until 3.30 pm.
The photo of the day shown here includes a wide variety of vehicles. The picture was made by Chris Wevers, one of our dedicated GTspirit photographers. Try to guess the vehicles in the picture. A true petrolhead will point them out one by one.