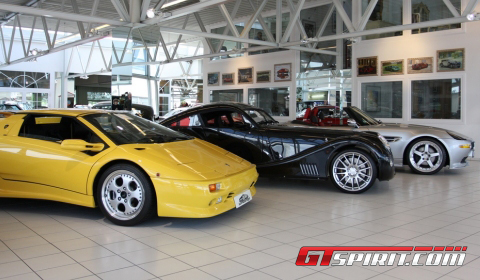 In 25 years of its existence Auto Salon Singen has become one of the places in the world where you can find your new sports-, supercar or classic. The Germans started their company in 1985 in Radolfzell. A year later they moved from the small town to their present site in Singen. The building had the capability of displaying a hundred classic cars, exclusive vehicles and sports cars.
In 1997 the current showroom was rebuilt and two were combined extending the display area. Since 2010 a car workshop and service building have been added. The cars inside the workshop are only prepared for sale; no full service is being performed.
The company has up to 25 employees and sells modern and vintage cars around the world. For new cars they can offer some without a waiting list. 75 percent of the cars are sold by phone or through the internet. Delivery is done worldwide.
A nice example of that is a McLaren F1 sold to a Japanese owner. He did not even visit the dealership in Germany, asked for the car and bought it via Auto Salon Singen. Up to this moment the F1 is most expensive car sold by the dealership where Porsche's and Ferrari's are the most sold brands.
You can visit Auto Salon Singen. It is located in the south-west of Germany near the Bodensee and the Swiss border. The dealership is open from Monday to Friday from 8 am until 6.30 pm and on Saturday from 9 am until 3.30 pm.