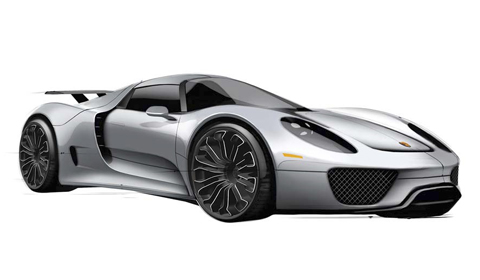 Porsche is extending the model range. Back in March we reported that Porsche was working on a new mid-engined supercar. Now more details about this car emerged. According to German site AutoBild.de, the Stuttgart based company is working on a new hybrid sports car.
This new flagship, named the 961, will be modeled after the 918 Spyder, but will come as a coupe and will be positioned above the 911. This car will be powered via the rear wheels by a V8. When desired, an additionally electric boost will be available via the front wheels, boosting the power up to 600 horsepower.
The name of this new Porsche is rumored to be 961. Perhaps this sounds familiar, because this designation refers to racing version of the 959 in 1986. This car was intended for Group B sports car racing. The 961 project was short lived, running only three races and seeing the construction of only one car. This early version of the 961 is on display in the Porsche Museum in Stuttgart.
The Porsche 961 is expected to be priced approximately € 200,000 and should enter the market by 2013.