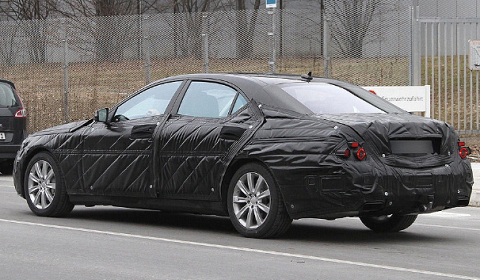 Nowadays car makers and customers are becoming more environmentally aware. Many manufacturers are offering hybrid version of their models, some even built full electric models. For example, Jaguar built a full electric XJ, Rolls-Royce presented the electric Phantom 102EX in Geneva this year, Tesla and Fisker are offering electrical cars and Mercedes presented the SLS AMG E-Cell at the end of last year.
Autocar reports that Mercedes is considering a full electric version of the next Mercedes S-Class which is scheduled to debut in 2013. According to Mercedes' technical head Thomas Weber, a full electric version of the next Mercedes S-class is not being ruled out. "At the moment, we are looking at customer demand," he admitted.
More details about the next generation S-Class are unveiled. The next-generation car will have hybrid and plug-in hybrid versions. Also available will be Mercedes' new V6 and V8 MoVe petrol engines which rely on turbo charging and direct injection to deliver gains in power, efficiency and CO2 reduction. Diesel options are likely to include the 201bhp 2.2 liter four-cylinder motor from the current S250 CDI, the smallest engine to be offered in the S-class.
The design of the cabin will be complete new instead of taken over from existing models. But the new direction of its design can be seen in the F800 Style Concept revealed at the Geneva motor show in March. The new S-Class will also showcase new interior technologies such as more focus on head-up displays and driver-oriented virtual displays.
Downsizing, hybrids and a full electrical S-Class, the next generation Mercedes' will be green. No doubt this would please the local politicians in their hometown Stuttgart.