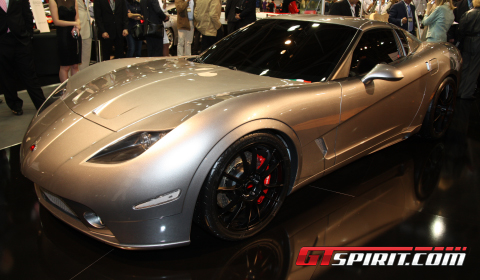 Top Marques Monaco is finishing tomorrow on Sunday the 17th. The event hosted a number of new introductions. The Soleil Anadi, a coachbuilt Corvette, was one of the new projects shown to the visitors of the event.
The person behind the original design is Ugur Sahin, a Turkish designer based in the Netherlands. Soleil Motors purchased the design and has full ownership and authority. Ugur Sahin Design has no other involvement in the Anadi project. Soleil Motors is a co-operation between Adhar Srivastava and his father Govind Srivastava. The company and its showroom are based in Milan, Italy.
The exterior received a complete new body work. The interior stayed unknown to us all, because the Soleil Anadi displayed had tinted windows. The performance package includes a Corvette sourced 6.2 liter supercharged V8 engine producing 651 horsepower. A top speed in excess of 321km/h and a sprint from 0-100km/h in less than 3.5 seconds should be possible.
One of the highlights revealed at the event was a new system called Magnetic Polar Motion Rims. The information sign placed at the stand indicated that the vehicle uses a specially designed rim using – and we quote – kinetic forward motion and singular magnetic polar energy to propel the wheel forward at higher speed to boost top performance, improve fuel consumption and increase the engine's horsepower capabilities. The basic setup are rims outfitted with special magnets.
The Analdi is available for order now at a price of $ 299,995 or € 208,000. The production is limited to 300 cars worldwide.