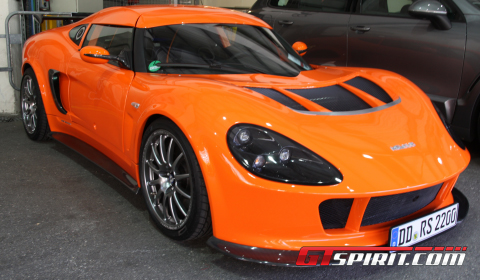 German car builder Melkus has released two new models at the Top Marques 2011 show in Monte-Carlo; the RS2000GT and the RS2000 GTS. Both vehicles are showcased at the event; one indoors (GT) and one in the test drive pit (GTS).
Both sports cars are powered by a new powerful turbo engine. In comparison to the 300hp GT, the top-ofthe-line GTS model has 350hp and includes also a carbon body- and interior kit. The basic equipment also contains the AP high performance breaking system, an OEHLINS adjustable suspension as well as further racing features. The top speed is almost 300km/h and the acceleration from 0-100km/h is done in 4.5 seconds with the RS2000 GT and in 3.9 seconds with the RS2000 GTS.
The base price for the Melkus RS2000 GT is € 122,000 and for the RS2000 GTS € 148,000. Both prices include VAT. More information about the vehicles can be found right here.