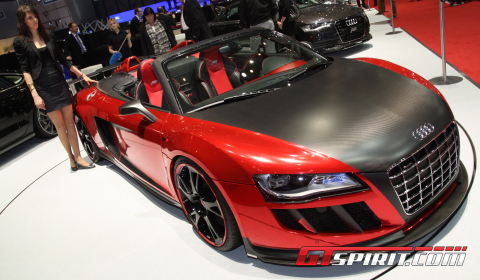 Following the release at the Geneva Motor Show 2011 about a month ago, the Germans at ABT have released a sound file of their ABT R8 V10 Spyder GTS. You will here the exhaust of the tuned spyder while the camera/microphone is attached to the vehicle itself.
The ABT R8 V10 Spyder GTS focusses on weight reductions and the perfect distribution of weight combined with a performance improvement up to 620hp out of the stock 5.2 liter FSI V10 engine. The complete package comes with a new front skirt, rear skirt, windscreen frame cover, red air scoops, engine bonnet and the mirrors made of carbon fiber reinforced plastic.
Additional changes are the ABT suspension setup, sports exhaust system providing a nicer tune and the diffuser, rear wing and trapeze-shaped rear skirt. The front spoiler plate is adjustable, same goes for the rear wing.